Livre
Il faut être un battant! – Man muss ein Kämpfer sein! – You Have to be a Fighter! – É preciso ser um lutador!
Une publication de – Eine Publikation der – Published by – Uma publicação de
Blëtz a.s.b.l.
Commandez maintenant – Bestellen Sie jetzt – Order now – Peça agora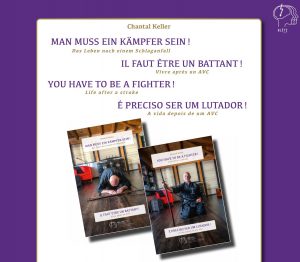 Video – Den Held vum Dag
Zum Welttag des Schlaganfalls am 29. Oktober 2016 und 2017, stellt Blëtz a.s.b.l. ihr Aufklärungsvideo vor.
À l'occasion de la journée mondiale de l'AVC le 29 octobre 2016 et 2017, l'association Blëtz a.s.b.l. présente sa nouvelle vidéo de sensibilisation.
Production réalisée avec le soutien de Jangli Film & RTL
10 Männer – 1 AVC – 10 Geschichten


En AVC, e Mann a séng Geschicht

10 Fraën – 1 AVC – 10 Geschichten


En AVC, eng Fra an hier Geschicht