Commandez maintenant – Bestellen Sie jetzt – Order now – Peça agora
€45.00
Frais d'envoi inclus, Versand inklusive, Shipping included, Envio incluído
Paypal
or Virement / Banküberweisung / Bank transfer / Transferência bancária:
LU84 1111 7009 1792 0000 CCPLULL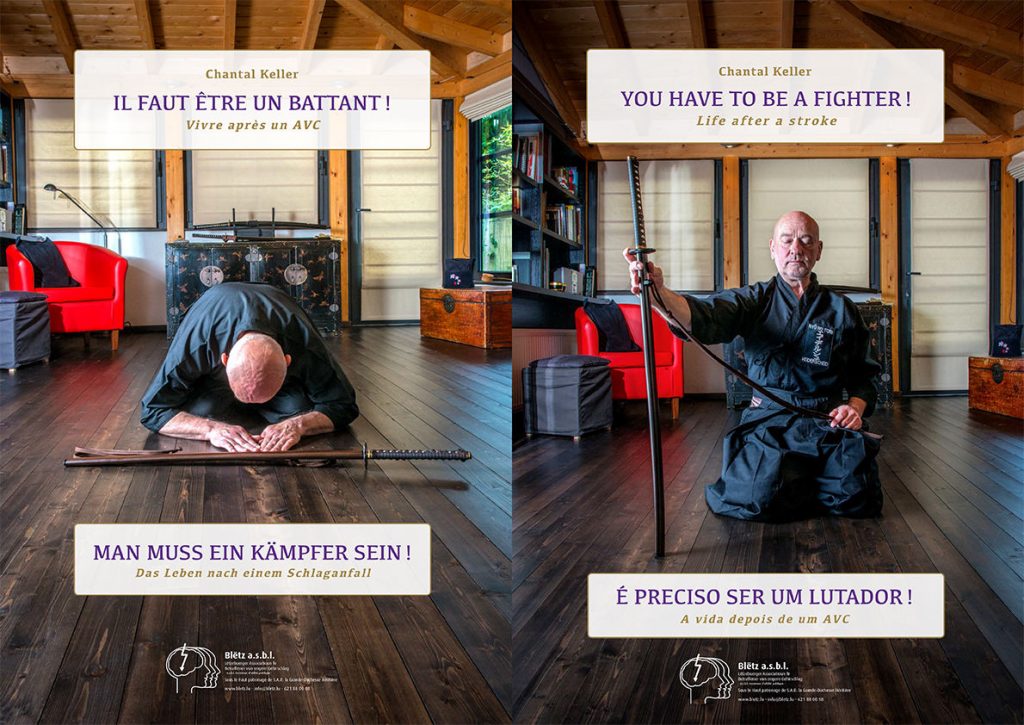 Chantal Keller, Präsidentin von Blëtz a.s.b.l Luxemburg, die selbst einen Schlaganfall erlitten hat, beschreibt in ihrem Buch das Schicksal von 24 Betroffenen und deren Familien. Diese persönlichen Geschichten sind in 4 Sprachen geschrieben: in Deutsch, Französisch, Englisch und Portugiesisch. Des Weiteren wird das Buch durch 26 informative Artikel ergänzt. Einige davon sind von Professoren aus dem Bereich der Medizin, andere von Vorsitzenden unterschiedlicher Organisationen mit Bezug auf den Schlaganfall, verfasst. Diese Artikel dienen dazu, dem Leser so viele Informationen wie nur möglich über das Thema Schlaganfall zukommen zulassen, das heißt zu erklären, was ein Schlaganfall überhaupt ist und wie die Angehörigen Hilfe und Unterstützung bekommen können, bei der Betreuung eines Menschen, der vom "Blitz" getroffen wurde. Die allerwichtigste Information ist jedoch, dass man in jedem Fall ein Kämpfer sein und weiterkämpfen muss, um sein Leben weiterleben zu können.
Chantal Keller, présidente de Blëtz a.s.b.l. Luxembourg, étant elle-même touchée par un accident vasculaire cérébral (AVC), présente dans son livre un témoignage de 24 personnes atteintes d'un AVC ainsi que de leurs familles. Ces textes sont rédigés en quatre langues différentes : allemand, français, anglais et portugais. De plus cet ouvrage est complété par 26 articles de nature informative : D'une part, des professeurs en médecine expliquent en détail la signifcation d'un accident vasculaire cérébral, d'autre part des responsables de différentes organisations en relation avec le traitement des AVC renseignent sur les possibilités de réhabilitation des patients et de soutien aux membres de leurs familles. L'information la plus importante est pourtant celle qu'il faut être un battant, c'est-à-dire trouver la force de travailler sur soi-même et de ne jamais résigner a n de pouvoir continuer à vivre sa vie.
Chantal Keller, president of Blëtz a.s.b.l Luxembourg, herself affected by a stroke, describes the fate of 24 concerned people and their family members in her book. These personal stories are written in 4 different languages: German, French, English and Portuguese. Furthermore, the book is completed by 26 informative articles. Some are written by professors in medicine, others by the heads of different organizations, to give the reader a huge amount of detailed information, about what a stroke really means and about how people can get support while being involved personally, whether as a patient or a family member. The most important information is, that in every case, one has to be a fighter and one has to continue fighting, even after a stroke, to be able to continue living one's life.
Chantal Keller, presidente de Blëtz a.s.b.l. Luxemburgo, ela mesma vítima de um AVC, expõe no seu livro o testemunho de 24 pessoas que sofreram um AVC assim que o de as respetivas famílias. Estes textos são redigídos em quatro línguas diferentes : alemão, francês, inglês e portugês. Além disso, 26 artígos informativos vêm completar o livro : professores de medecina que explicam o significado de um AVC e responséveis de diferentes organizações que informam sobre as diferentes possibilidades de reabilitação do patiente e de apoio aos familíares. A mensagem mais importante que o livro transmite é o facto de ter de se ser um lutador ou seja, ter forças para continuar o processo de recuperação e seguir em frente.
This book is published by Blëtz a.s.b.l.